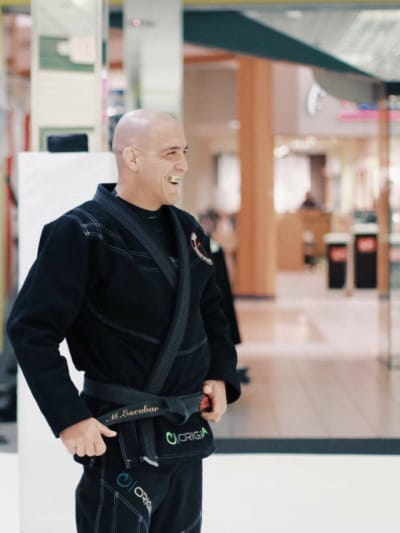 Professor Marcos Escobar
Prof. Marcos Escobar is a Brazilian Jiu-Jitsu Black Belt 5th Degree under Master Leo Castello Branco – Carlson Gracie lineage. He is also a MMA veteran (2-0-0) having trained under master Andre Pederneiras and team Nova Uniao in Rio de Janeiro. He is the pioneer of the sport in Malaysia and one of the main figures of its growth and development in South East Asia.
Former Les Mills Program Coach, Trainer and Presenter, Escobar is also an experienced and certified Personal Trainer with over two decades in the Fitness & Wellness Industry. He carries a degree in Physical Education and marked his presence in numerous specialization courses and workshops around the globe as either a participant or presenter.
Careful attention to details, simple and efficient teaching language, love for teaching, humor, and friendly personality a the perfect combo to deliver results in a pleasant and enjoyable way by combining all years of experience in Wellness, Fitness & Martial Arts.
Name: Marcos Escobar
Nickname: Escobar
Born: Sao Paulo , Brasil
Nationality: Brazilian
Residence: Weston, FL (USA)
Weight: 195 lbs
Height: 5 ft 7 in
Division: Medium Heavy Weight
Style: Brazilian Jiu-Jitsu
World Masters: 2x (IBJJF/SJJIF)
No-Gi Worlds: 2x (IBJJF/SJJIF)
ADCC (2001 Arabic League): 1x
American Nationals: 4x
Brazilian Nationals: Team 2x
Pro MMA record: 2-0-0
Amateur Boxing: 1-0-0